"You planted them; they have taken root; they keep on growing and bearing fruit." Jeremiah 12:2
St. Lawrence Parish was originally founded in 1954 as a mission of St. Paul Church in Leesburg. Father Gerard Manning, then pastor at St. Paul's, met with a group of seven Catholics in Sumter County to form a "Catholic study group." The gathering grew, and in 1955, the first Mass was celebrated by Father Manning at a Bushnell office, building with 54 people attending. Other priests followed, continuing the practice of celebrating Mass in Bushnell. Archbishop Joseph P. Hurley of St. Augustine dedicated a mission church building —" the little red church" — on May 13, 1960.
Present were Father Louis J. Bentivoglio, pastor of St. Paul's, and 150 congregants. Archbishop Hurley congratulated all those who had a hand in the construction of the church. "The calm counsel, aspirations and collaboration of all," he said, "have resulted in something that must be pleasing to Almighty God and that is what we intend it for." "It is so easy for us to be completely occupied in the very attractive things of this earth" the Archbishop continued. "But it is in the Presence of God in your church that you will see things under the light of eternity, in their true proportions; that you will see the natural, the passing, the temporal, the things here below as God intended you to see them – to use them as means, to use them as channels, to use them as vehicles to that life which know no ending."
Located on Highway 301, the frame, redwood siding chapel was 77 feet long and 33 feet wide with a social hall in the back of the building.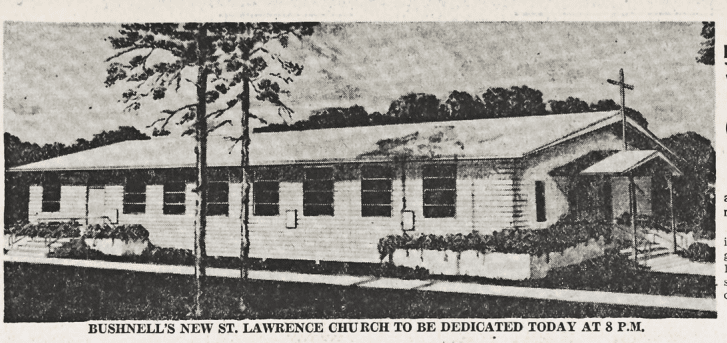 The mission was served by the priests of St. Paul as well as by three retired priests, collectively called the "Father Joes" as all three priests had the first name Joseph.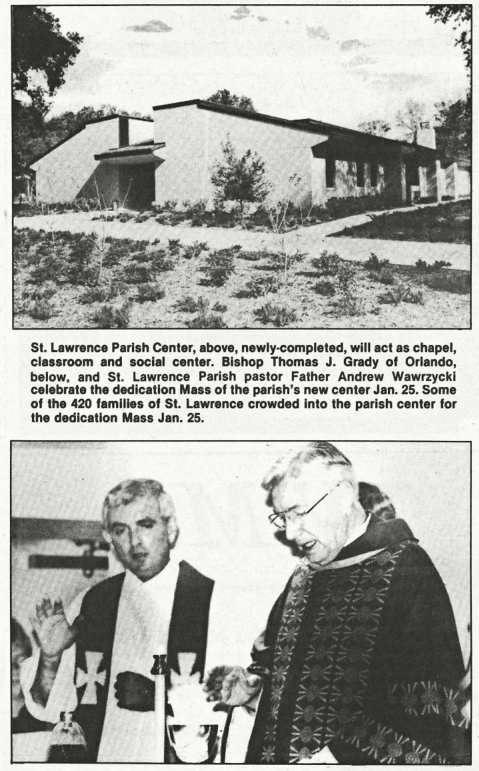 In 1981 St. Lawrence was raised to the status of a canonical parish by Bishop Thomas J. Grady when its boundaries were defined and thus became a territorial division of the diocese. Rev. Andrew Wawrzycki became the first pastor on August 18, 1981. The enthusiasm of the parishioners and their appreciation for the new pastor was evident in the 12-foot sign that greeted Father Wawrzycki as he drove into Bushnell: "Welcome Father Andy! What took you so long?"
Additionally, St. Lawrence took on the role of "parent" church and oversaw a new mission in Sumter County, the St. Vincent de Paul Mission in Wildwood. Outreach ministry was conducted at the Sumter County Correctional Institution which continues to this day.
On January 25, 1987, Bishop Grady dedicated and blessed a new 7,500-foot parish center. In addition to holding faith formation classes and parish activities the building also held Mass during the winter months when the parish's population grew beyond the capacity of the original chapel style church.
Renovations to the "little red church" began June 12, 2017 and were completed in January 2018. Walls were moved and the sanctuary was extended to increase seating from 350 to 425. The kitchen was removed, and an improved sacristy took its place.
St. Lawrence did indeed take root and has continued to grow and bear fruit to the glory of God.